What are nasal polyps
Nasal polyps are painless smooth, round, soft sac-like noncancerous growths attached to the lining inside your nose. Nasal polyps are not usually serious, but they can keep growing and block your nose if not treated. Nasal polyps hang down like teardrops or grapes. They result from chronic inflammation due to asthma, recurring infection, allergies, drug sensitivity or certain immune disorders. Nasal polyps can cause obstruction of the nose, and loss of smell. They may be associated with seasonal or perennial allergic rhinitis. Occasionally nasal polyps need to be surgically removed due to extreme discomfort.
Nasal polyps are common benign degeneration of nasal sinus mucosa which are mostly associated with chronic conditions such as allergy, infection, asthma and aspirin sensitivity. Nasal polyps can affect anyone, but they're more common in young and middle-aged adults. The population prevalence is reported as 2-4%, with no racial predilection. The male to female ratio has been reported at approximately 2:1.
Small nasal polyps may not cause symptoms. Larger growths or groups of nasal polyps can block your nasal passages or lead to breathing problems, a lost sense of smell and frequent infections.
Symptoms of nasal polyps include:
blocked nose
runny nose
constant need to swallow (post-nasal drip)
reduced sense of smell or taste
nosebleeds
snoring
Nasal polyps can sometimes feel like a cold, but colds tend to clear up within a few days, whereas nasal polyps won't get better unless they're treated.
If your polyps block your sinuses (air pockets around your nose), you may also have symptoms of sinusitis.
Medications can often shrink or eliminate nasal polyps, but surgery is sometimes needed to remove them. Even after successful treatment, nasal polyps often return.
When to see a doctor
you're worried you may have nasal polyps
you have difficulty breathing
your symptoms are getting worse
you notice changes to your sense of smell
if your symptoms last more than 10 days
Seek immediate medical care or call your local emergency number if you experience:
Serious trouble breathing
Sudden worsening of your symptoms
Double vision, reduced vision or limited ability to move your eyes
Severe swelling around your eyes
Increasingly severe headache accompanied by high fever or inability to tip your head forward
What do nasal polyps look like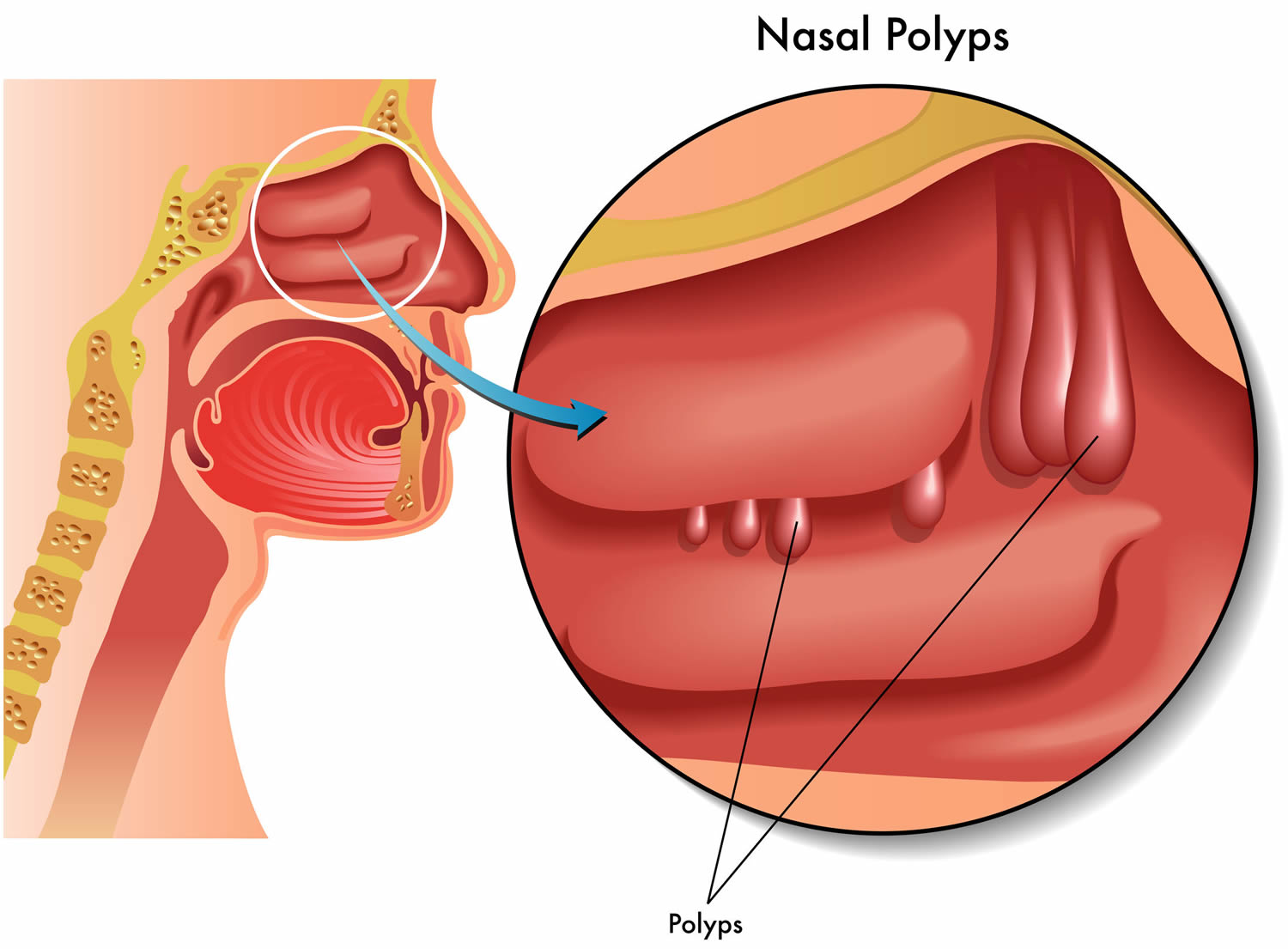 Figure 1. Nasal polyps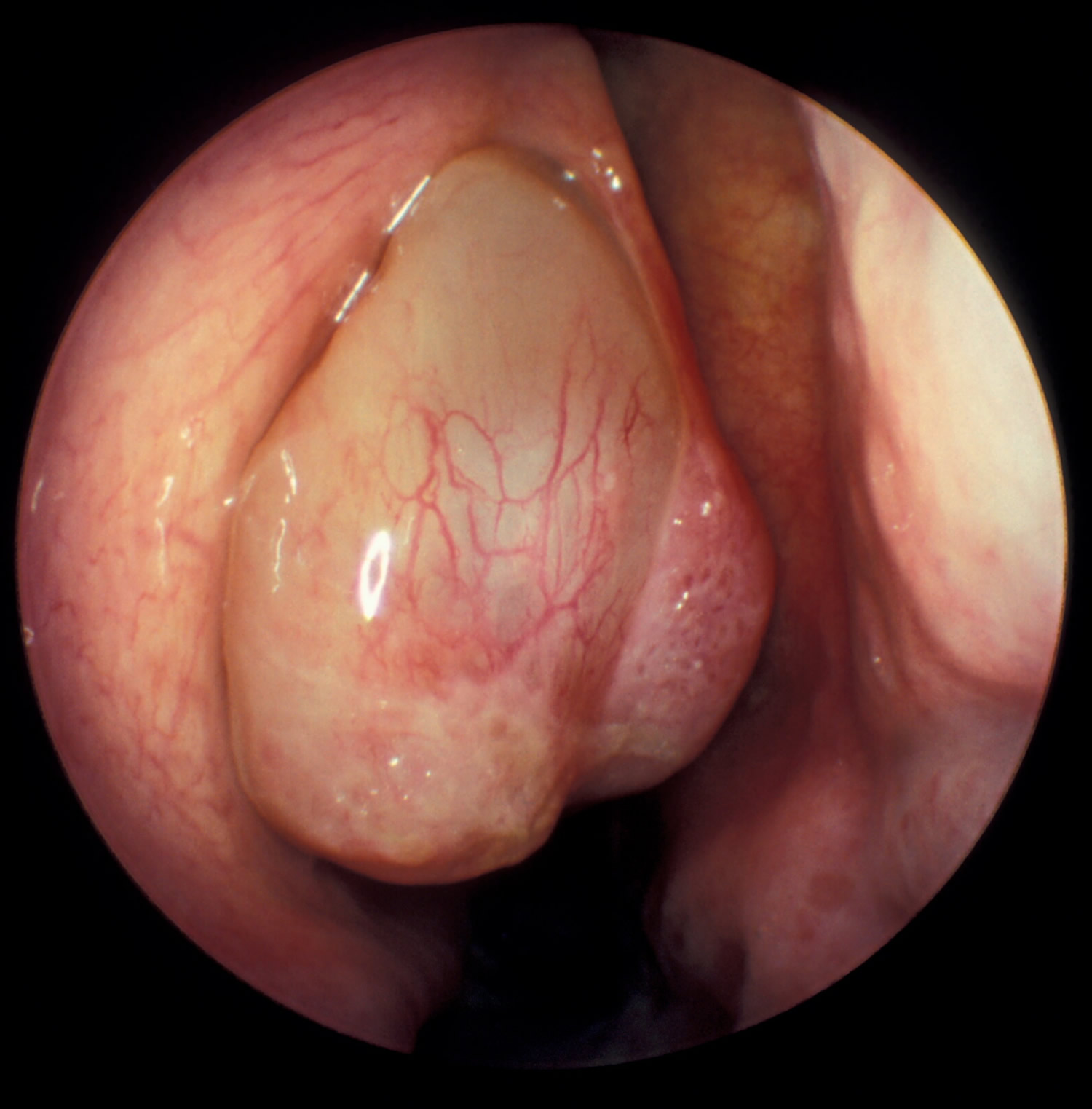 Figure 2. Nasal polyps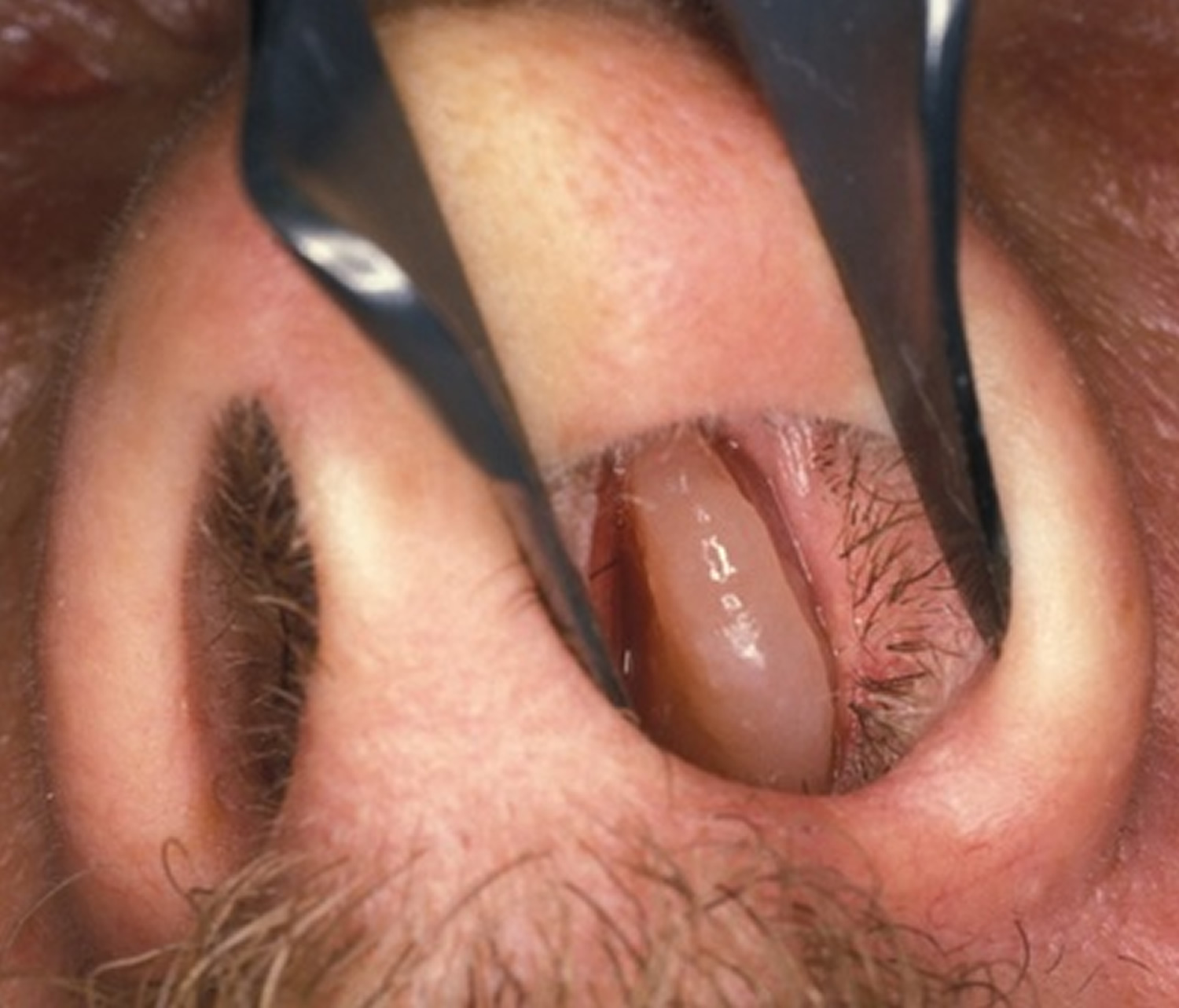 Note: This patient with cystic fibrosis had a unilateral nasal polyposis which was so extensive, that the most anterior polyp projected into the nasal vestibule.
Figure 3. Nasal polyp (surgical specimen)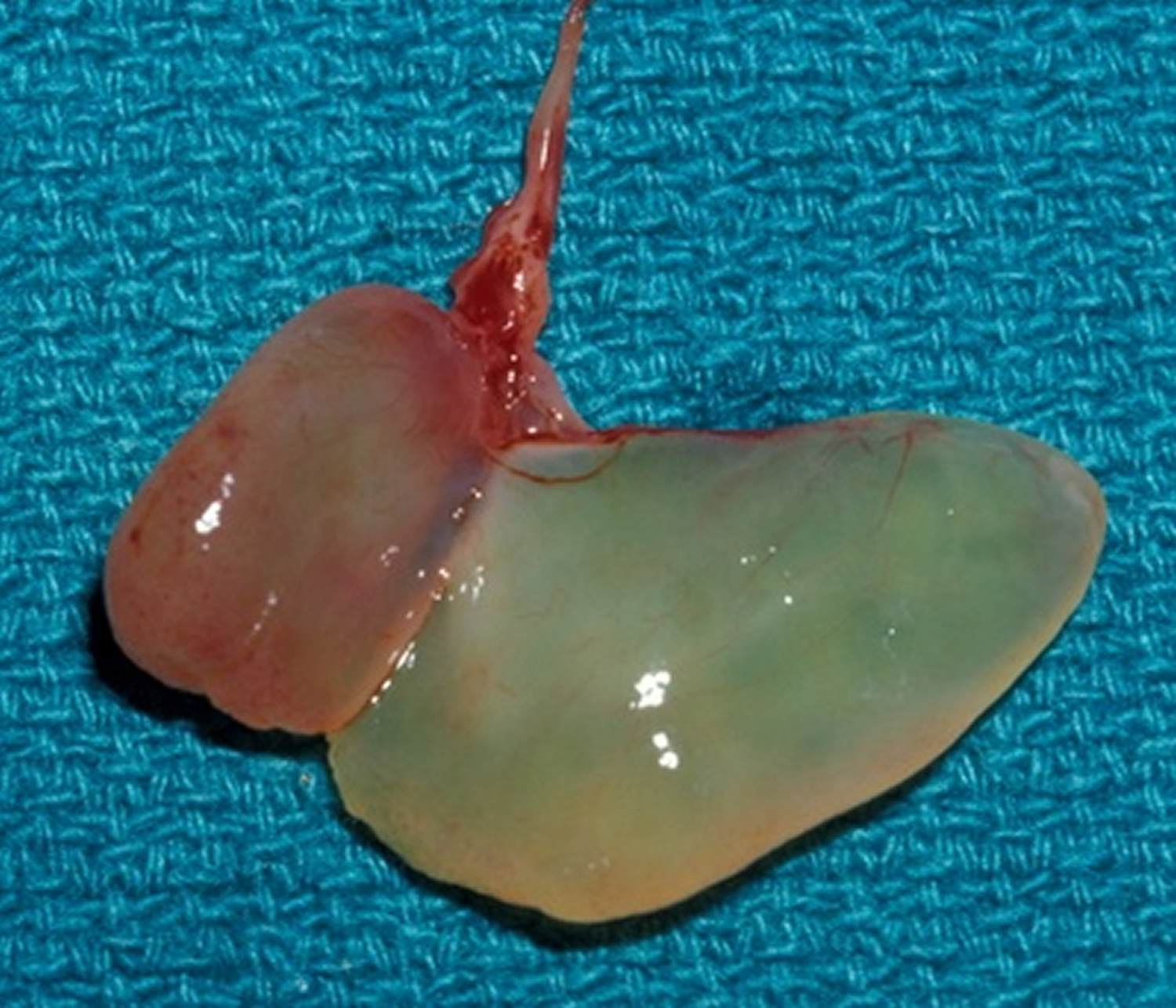 Nasal polyps causes
It's not clear what causes nasal polyps. It's not clear why some people develop chronic inflammation or why ongoing inflammation triggers polyp formation in some people and not in others. The inflammation occurs in the fluid-producing lining (mucous membrane) of your nose and sinuses. There's some evidence that people who develop nasal polyps have a different immune system response and different chemical markers in their mucous membranes than do those who don't develop nasal polyps.
Nasal polyps can grow anywhere on the lining of the nose or the sinuses, but they appear most often in an area where sinuses near your eyes, nose and cheekbones all drain through winding passages into your nose (ostiomeatal complex).
Small nasal polyps may not cause any problems. Large polyps can block your sinuses or nasal airway.
Nasal polyps are not cancer. They seem to grow due to long-term swelling and irritation in your nasal passages or sinuses from allergies, asthma, or infections.
No one knows exactly why some people get nasal polyps. If you have any of the following conditions, you may be more likely to get nasal polyps:
Aspirin sensitivity
Asthma
Chronic sinus infections
Cystic fibrosis
Hay fever
Churg-Strauss syndrome, a rare disease that causes the inflammation of blood vessels
Your family history also may play a role. There's some evidence that certain genetic variations associated with immune system function make you more likely to develop nasal polyps.
Nasal polyps are rare in children.
You can't prevent nasal polyps. However, nasal sprays, antihistamines, and allergy shots may help prevent polyps that block your airway.
Treating sinus infections right away also may help.
You may help reduce your chances of developing nasal polyps or having nasal polyps recur after treatment with the following strategies:
Manage allergies and asthma. Follow your doctor's treatment recommendations for managing asthma and allergies. If your symptoms aren't well-controlled, talk to your doctor about changing your treatment plan.
Avoid nasal irritants. As much as possible, avoid breathing airborne substances that are likely to contribute to inflammation or irritation of your nose and sinuses, such as allergens, tobacco smoke, chemical fumes, and dust and fine debris.
Practice good hygiene. Wash your hands regularly and thoroughly. This is one of the best ways to protect against bacterial and viral infections that can cause inflammation of the nasal passages and sinuses.
Humidify your home. Use a humidifier if the air in your home tends to be dry. This may help moisten your breathing passages, improve the flow of mucus from your sinuses, and help prevent blockage and inflammation.
Use a nasal rinse or nasal lavage. Use a saltwater (saline) spray or nasal lavage to rinse your nasal passages. This may improve mucus flow and remove allergens and other irritants.You can purchase over-the-counter saline sprays or nasal lavage kits with devices, such as a neti pot, to administer a rinse.If you make your own rinse, use water that's distilled, sterile, previously boiled and cooled, or filtered using a filter with an absolute pore size of 1 micron or smaller to make up the irrigation solution. Also be sure to rinse the irrigation device after each use with similarly distilled, sterile, previously boiled and cooled, or filtered water and leave open to air-dry.
Nasal polyps possible complications
Nasal polyps can cause complications because they block normal airflow and fluid drainage, and also because of the chronic inflammation underlying their development.
Potential complications include:
Bleeding
Infection
Polyps coming back after treatment
Obstructive sleep apnea. In this potentially serious condition, you stop and start breathing frequently during sleep.
Asthma flare-ups. Chronic rhinosinusitis can aggravate asthma.
Sinus infections. Nasal polyps can make you more susceptible to sinus infections that recur often or become chronic.
Nasal polyps are associated with inflammation of the lining of your nasal passages and sinuses that lasts more than 12 weeks (chronic rhinosinusitis, also known as chronic sinusitis). However, it's possible — and even somewhat more likely — to have chronic sinusitis without nasal polyps.
Nasal polyps signs and symptoms
Nasal polyps themselves are soft and lack sensation, so if they're small you may not be aware you have them. If polyps block nasal passages, a sinus infection can develop. Symptoms of chronic sinusitis and nasal polyps are similar to those of many other conditions, including the common cold.
Nasal polyps symptoms include:
Runny nose
Stuffed up nose
Sneezing
Feeling like your nose is blocked
Loss of smell
Loss of taste
Headache and pain if you also have a sinus infection
With polyps, you may feel like you always have a head cold.
Nasal polyps diagnosis
Your health care provider will look in your nose. Nasal polyps look like a grayish grape-shaped growth in the nasal cavity.
You may have a CT scan of your sinuses. Polyps will appear as cloudy spots. Older polyps may have broken down some of the bone inside your sinuses.
Other diagnostic tests include:
Nasal endoscopy. A narrow tube with a lighted magnifying lens or tiny camera (nasal endoscope) enables your doctor to perform a detailed examination inside your nose and sinuses. He or she inserts the endoscope into a nostril and guides it into your nasal cavity.
Imaging studies. Images obtained with computerized tomography (CT) can help your doctor pinpoint the size and location of polyps in deeper areas of your sinuses and evaluate the extent of inflammation. These studies may also help your doctor rule out the presence of other possible obstructions in your nasal cavity, such as structural abnormalities or another type of cancerous or noncancerous growth.
Allergy tests. Your doctor may suggest skin tests to determine if allergies are contributing to chronic inflammation. With a skin prick test, tiny drops of allergy-causing agents (allergens) are pricked into the skin of your forearm or upper back. The drops are left on your skin for 15 minutes before your doctor or nurse observes your skin for signs of allergic reactions.If a skin test can't be performed, your doctor may order a blood test that screens for specific antibodies to various allergens.
Test for cystic fibrosis. If you have a child diagnosed with nasal polyps, your doctor may suggest testing for cystic fibrosis, an inherited condition affecting the glands that produce mucus, tears, sweat, saliva and digestive juices. The standard diagnostic test for cystic fibrosis is a noninvasive sweat test, which determines whether your child's perspiration is saltier than most people's sweat is.
Nasal polyps treatment
Your doctor should be able to tell if you have nasal polyps by looking inside your nose.
If you have nasal polyps, you'll usually be given steroid nose drops or a spray to shrink the polyps.
Medicines help relieve symptoms, but rarely get rid of nasal polyps.
Nasal steroid sprays shrink polyps. Nasal corticosteroids include fluticasone (Flonase, Veramyst), budesonide (Rhinocort), flunisolide, mometasone (Nasonex), triamcinolone (Nasacort Allergy 24HR), beclomethasone (Beconase AQ) and ciclesonide (Omnaris). They help clear blocked nasal passages and runny nose. Symptoms return if treatment is stopped.
Corticosteroid pills or liquid and injection may also shrink polyps,and can reduce swelling and nasal congestion. If a nasal corticosteroid isn't effective, your doctor may prescribe an oral corticosteroid, such as prednisone, either alone or in combination with a nasal spray. Because oral corticosteroids can cause serious side effects, you usually take them only for a limited period. Injectable corticosteroids may be used if nasal polyps are severe. The effect lasts a few months in most cases.
Allergy medicines can help prevent polyps from growing back.
Antibiotics can treat a sinus infection caused by bacteria. They can't treat polyps or sinus infections caused by a virus.
Aspirin desensitization and treatment may benefit some patients with nasal polyps and aspirin sensitivity.
You may be given steroid tablets, usually for up to 2 weeks, if:
your nasal polyps are large
nose drops and sprays didn't work
Nasal polyps home remedies
Salt water washes – called a saline rinse or nasal douche – to help unblock your nose.
Making your own salt water nasal rinse or lavage

In a bowl, mix 1 level teaspoon of salt and 1 level teaspoon of bicabonate of soda in about 1 pint of cooled boiled water.
Sniff some of the cooled mixture up 1 nostril and let it run out.
Repeat sniffing at least 3 times up each nostril or until your nose clears up.
You can gargle any remaining mixture to help clear the back of the nose.
Check the mixture isn't too hot before sniffing. Don't swallow the salty mixture – it may make you feel sick.
These salt water washes aren't suitable for children.
Nasal polyps surgery
If there's no sign of improvement after about 10 weeks, your doctor may suggest surgery to remove your polyps.
Endoscopic sinus surgery is often used to treat polyps. With this procedure, your doctor uses a thin, lighted tube with instruments at the end. The tube is inserted into your nasal passages and the doctor removes the polyps. Your surgeon may also enlarge the openings leading from your sinuses to your nasal passages. Endoscopic surgery is usually performed as an outpatient procedure.
Usually you can go home the same day.
Sometimes, polyps come back, even after surgery.
Most people who have surgery see an improvement, but it's common for polyps to grow back, usually within a few years.
You may need to keep using a steroid nasal spray after surgery to stop the polyps returning quickly.
Your doctor may also recommend the use of a saltwater (saline) rinse to promote healing after surgery.
Removing polyps with surgery often makes it easier to breathe through your nose. Over time, however, nasal polyps often return.
Loss of smell or taste does not always improve following treatment with medicine or surgery.