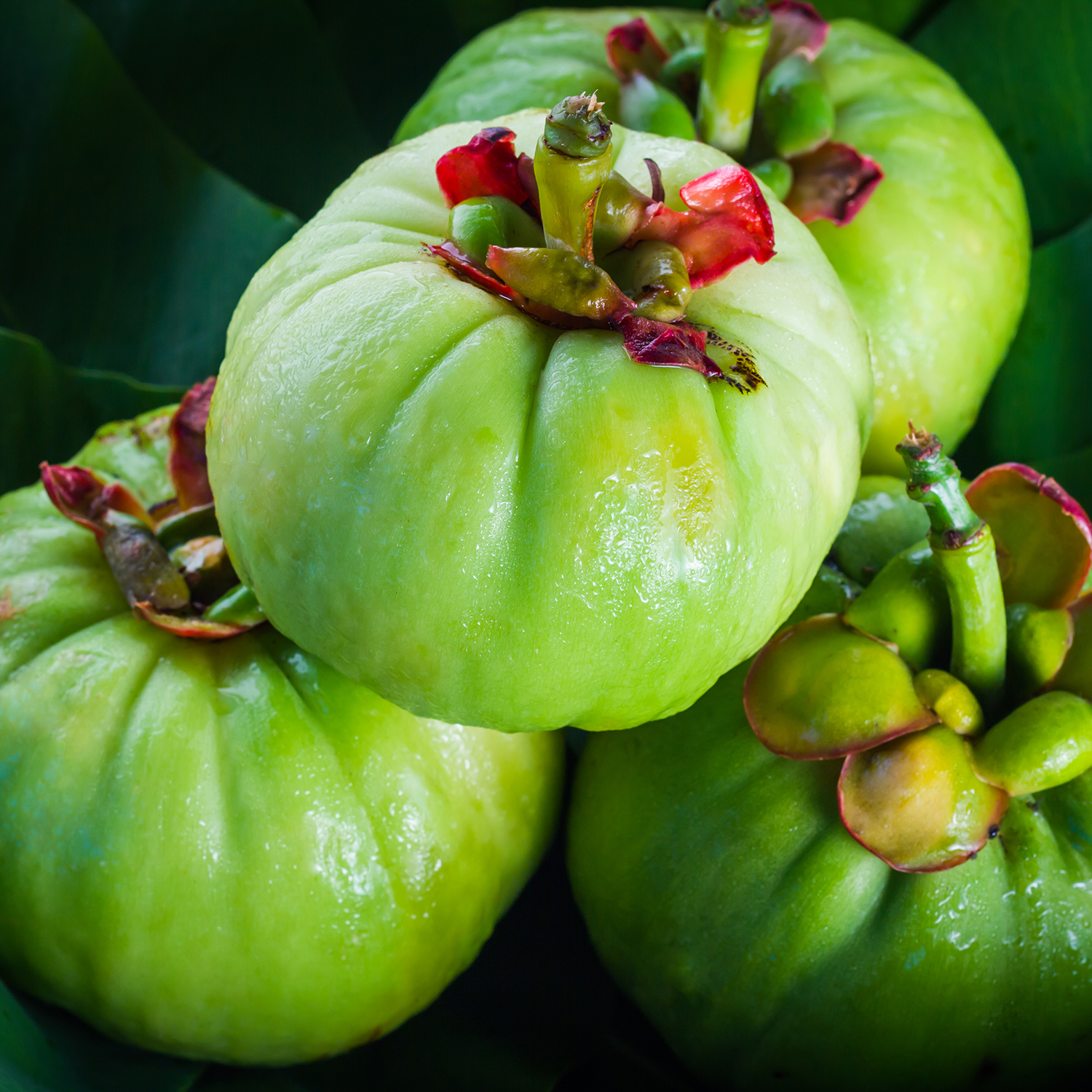 Garcinia Cambogia
Garcinia cambogia, a tropical fruit also known as the Malabar tamarind, brindle berry or garcinia is a popular weight-loss supplement. Garcinia cambogia is made into a tea, capsules, extracts, tablets, and lotion.
Garcinia cambogia (Malabar tamarind) is native to India and Southeast Asia. The rind of its fruit is used to flavor fish curries and preserve food. The rind contains a chemical called hydroxycitric acid, which has been studied for its effect on appetite. Garcinia cambogia supplements with hydroxycitric acid are marketed for weight loss.
Garcinia cambogia has also been used as a dietary supplement for weight loss, rheumatism, intestinal problems, and other conditions.
Hydroxycitric acid (HCA) is the active ingredient found in the fruit of the Garcinia cambogia plant 1). It is believed that hydroxycitric acid aids in weight loss by inhibiting lipogenesis by inhibiting the adenosine triphosphate (ATP)-citrate-lyase enzyme which is responsible for converting citrate to acetyl-coenzyme A and ultimately fatty acid synthesis. It is also theorized that HCA may improve exercise endurance by increasing lipid oxidation and decreasing carbohydrate metabolism and stimulate appetite suppression 2), 3).
And if you're about to take what you think of as "natural" dietary supplements, such as Garcinia cambogia, you should be aware that FDA has found some of these products also contain hidden active ingredients contained in prescription drugs 4).
Garcinia Cambogia (Hydroxycitric Acid) in the treatment of Obesity
In a small randomized, double-blind, placebo-controlled trial to measure the effects of Garcinia Cambogia (Hydroxycitric Acid) on body weight change and fat mass 5). The 135 participants (19 men and 116 women) with an average BMI of 32 kg/m2 were randomized to receive 3000 mg of Garcinia cambogia (1500 mg of Hydroxycitric Acid) per day or placebo along with a high fiber, low-calorie diet for 12 weeks. The placebo group lost 4.1 kg, and the Garcinia cambogia group lost 3.2 kg. There were no significant differences in estimated percentage of body fat mass loss between treatment groups, and the fraction of subject weight loss as fat was not influenced by treatment group. In addition, the placebo group demonstrated a decrease in percent body fat mass of 2.16%, and the Hydroxycitric Acid group demonstrated a 1.44% decrease. The most commonly reported adverse events were headache, upper respiratory tract symptoms, and gastrointestinal symptoms. The study authors concluded that Garcinia cambogia failed to produce significant weight loss and fat mass loss beyond that observed with placebo 6).
A double-blind, placebo-controlled parallel group study performed by Mattes and Bormann 7) enrolled 89 mildly overweight females to evaluate Garcinia cambogia (Hydroxycitric Acid) on weight loss and appetite suppression. The participants were randomized to receive 2.4 grams of Garcinia cambogia (1.2 grams of Hydroxycitric Acid) or placebo per day, in addition to a low calorie diet. At the end of 12 weeks, it was noted that the Hydroxycitric Acid group lost significantly more weight than the placebo group (3.7 kg versus 2.4 kg). There were no changes on appetitive variables 8).
In another small double-blind, randomized, placebo-controlled, parallel-group designed study 9). 44 subjects aged 20 to 65 years with a visceral fat area >90 cm2 were enrolled. Subjects were randomly assigned to receive treatment for 12 weeks with G cambogia (containing 1000 mg of Hydroxycitric Acid per day) or placebo. At the end of the treatment period, both groups were administered placebo for 4 weeks to assess any rebound effect. Each subject underwent a computed tomography scan at the umbilical level at −2, 0, 12, and 16 weeks.
The conclusion from that study 10) showed that Garcinia cambogia reduced abdominal fat accumulation in subjects, regardless of sex, who had the visceral fat accumulation type of obesity. It is therefore expected that G cambogia may be useful for the prevention and reduction of accumulation of visceral fat.
However in another study 11) involving 135 subjects who were randomized to either active hydroxycitric acid (n = 66) or placebo (n = 69), there were no significant differences in estimated percentage of body fat mass loss between treatment groups and the fraction of subject weight loss as fat was not influenced by treatment group. The conclusion was Garcinia cambogia failed to produce significant weight loss and fat mass loss beyond that observed with placebo.
Although several studies have found that the administration of Garcinia cambogia extracts is associated with body weight and fat loss in both experimental animals and humans, we should be cautious when interpreting the results as other randomized, placebo-controlled clinical trials have not reported the same outcomes. Furthermore, most studies in humans have been conducted on small samples and mainly in the short term. None of them have shown whether these effects persist beyond 12 weeks of intervention. Therefore, there is still little evidence to support the potential effectiveness and long-term benefits of Garcinia cambogia extracts.
While Garcinia cambogia appears to be well tolerated, there is limited data with regards to its efficacy. The data that is available, however, does not demonstrate significant weight loss. Therefore, Garcinia cambogia or Hydroxycitric Acid is not recommended at this time.
How Much Do We Know About Garcinia Cambogia ?
Garcinia cambogia has been studied for weight loss, but there aren't a lot of recent, reliable studies on its effectiveness.
There's no convincing evidence that garcinia cambogia will help you lose weight or control cholesterol.
In a very small study, women who were overweight were given garcinia cambogia extract or a placebo for 60 days. Triglyceride levels of the participants getting garcinia cambogia decreased by almost one-third. Triglycerides are a type of fat in blood and high levels may raise a person's risk of developing heart disease. The participants' HDL (the "good" cholesterol), LDL (the "bad" cholesterol), total cholesterol, and body weight didn't change.
In another study, people who were overweight were given either garcinia cambogia extract, soy leaf extract, or a placebo. After 10 weeks, none of the supplements promoted weight loss or lowered total cholesterol.
What Do We Know About Safety ?
Taking garcinia cambogia for short periods (12 weeks or less) appears safe for most people 12).
In an animal study to investigate the effect of long-term Garcinia cambogia supplementation on adipogenesis and obesity-related metabolic changes, such as glucose intolerance and hepatic steatosis, in mice fed a high fat diet. The study also examined the effect of Garcinia cambogia on liver dysfunction, collagen accumulation, inflammation and oxidative stress on obesity-prone mice that were fed a high-fat diet (45 kcal% fat) with or without Garcinia cambogia for 16 wk. . (source 13)). The result of that study was Garcinia cambogia protects against high-fat diet-induced obesity by modulating adipose fatty acid synthesis and β-oxidation but induces hepatic fibrosis, inflammation and oxidative stress. Furthermore, some studies have reported the potential for hepatotoxicity of "Hydroxycut", a formulation that contains GC among other ingredients 14), 15).
Possible Side Effects
When you take garcinia cambogia, you might get:
Dizziness
Dry mouth
Headache
Upset stomach or diarrhea
You definitely don't want to use it when you're pregnant or nursing, or if you have kidney or liver problems.