What is cantaloupe
Cantaloupe (Cucumis melo species in the Cucurbitaceae family) also known as muskmelon (India and the United States), mushmelon, rockmelon, sweet melon, or spanspek (South Africa) 1). Cantaloupes range in weight from 0.5 to 5 kilograms (1 to 11 lb). Originally, cantaloupe referred only to the non-netted, orange-fleshed melons of Europe. However, in more recent usage it has come to mean any orange-fleshed melon of Cucumis melo, and has become the most popular melon in North America.
Cantaloupe is normally eaten as a fresh fruit, as a salad, or as a dessert with ice cream or custard. Melon pieces wrapped in prosciutto are a familiar antipasto.
Because the surface of a cantaloupe can contain harmful bacteria—in particular, Salmonella 2), it is recommended to wash and scrub a melon thoroughly before cutting and consumption. The fruit should be refrigerated after cutting it and consumed in less than three days to prevent risk of Salmonella or other bacterial pathogens.
Phytochemical analysis of cantaloupe showed the presence of flavonoids, phenols and saponins 3). These phytochemical constituents present in the hydro-methanol extract of cantaloupe seeds and the exact mechanism need to be evaluated.
Figure 1. Cantaloupe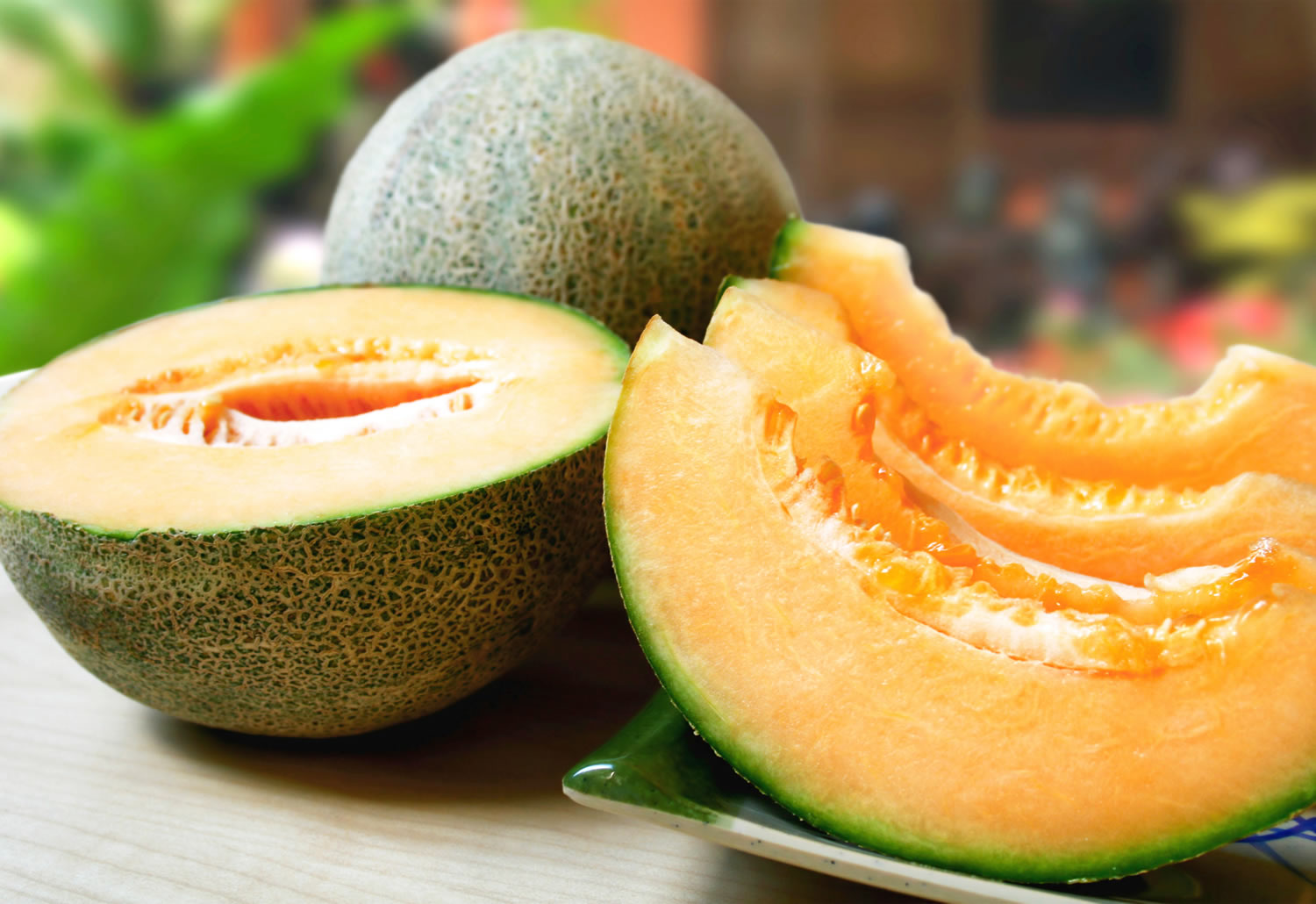 Cantaloupe nutrition facts
Raw cantaloupe is 90% water, 8% carbohydrates, 0.8% protein and 0.3% fat, providing 140 kJ (34 kcal) and 2020 μg of the provitamin A orange carotenoid, beta-carotene per 100 grams. Fresh cantaloupe is a rich source (20% or more of the Daily Value or DV) of vitamin C (44% DV) and vitamin A (21% DV), with other nutrients in negligible amounts (less than 10% DV).
Table 1. Cantaloupe (raw) nutrition facts
Nutrient
Unit
Value per 100 g
Approximates
Water
g
90.15
Energy
kcal
34
Energy
kJ
141
Protein
g
0.84
Total lipid (fat)
g
0.19
Ash
g
0.65
Carbohydrate, by difference
g
8.16
Fiber, total dietary
g
0.9
Sugars, total
g
7.86
Sucrose
g
4.35
Glucose (dextrose)
g
1.54
Fructose
g
1.87
Lactose
g
0
Maltose
g
0.04
Galactose
g
0.06
Starch
g
0.03
Minerals
Calcium, Ca
mg
9
Iron, Fe
mg
0.21
Magnesium, Mg
mg
12
Phosphorus, P
mg
15
Potassium, K
mg
267
Sodium, Na
mg
16
Zinc, Zn
mg
0.18
Copper, Cu
mg
0.041
Manganese, Mn
mg
0.041
Selenium, Se
µg
0.4
Fluoride, F
µg
1
Vitamins
Vitamin C, total ascorbic acid
mg
36.7
Thiamin
mg
0.041
Riboflavin
mg
0.019
Niacin
mg
0.734
Pantothenic acid
mg
0.105
Vitamin B-6
mg
0.072
Folate, total
µg
21
Folic acid
µg
0
Folate, food
µg
21
Folate, DFE
µg
21
Choline, total
mg
7.6
Betaine
mg
0.1
Vitamin B-12
µg
0
Vitamin B-12, added
µg
0
Vitamin A, RAE
µg
169
Retinol
µg
0
Carotene, beta
µg
2020
Carotene, alpha
µg
16
Cryptoxanthin, beta
µg
1
Vitamin A, IU
IU
3382
Lycopene
µg
0
Lutein + zeaxanthin
µg
26
Vitamin E (alpha-tocopherol)
mg
0.05
Vitamin E, added
mg
0
Tocopherol, beta
mg
0
Tocopherol, gamma
mg
0.11
Tocopherol, delta
mg
0
Vitamin D (D2 + D3)
µg
0
Vitamin D
IU
0
Vitamin K (phylloquinone)
µg
2.5
Lipids
Fatty acids, total saturated
g
0.051
04:00:00
g
0
06:00:00
g
0
08:00:00
g
0
10:00:00
g
0
12:00:00
g
0.001
14:00:00
g
0.001
16:00:00
g
0.043
18:00:00
g
0.005
Fatty acids, total monounsaturated
g
0.003
16:1 undifferentiated
g
0
18:1 undifferentiated
g
0.003
20:01:00
g
0
22:1 undifferentiated
g
0
Fatty acids, total polyunsaturated
g
0.081
18:2 undifferentiated
g
0.035
18:3 undifferentiated
g
0.046
18:04:00
g
0
20:4 undifferentiated
g
0
20:5 n-3 (EPA)
g
0
22:5 n-3 (DPA)
g
0
22:6 n-3 (DHA)
g
0
Fatty acids, total trans
g
0
Cholesterol
mg
0
Phytosterols
mg
10
Amino Acids
Tryptophan
g
0.002
Threonine
g
0.017
Isoleucine
g
0.021
Leucine
g
0.029
Lysine
g
0.03
Methionine
g
0.012
Cystine
g
0.002
Phenylalanine
g
0.023
Tyrosine
g
0.014
Valine
g
0.033
Arginine
g
0.029
Histidine
g
0.015
Alanine
g
0.095
Aspartic acid
g
0.136
Glutamic acid
g
0.209
Glycine
g
0.026
Proline
g
0.019
Serine
g
0.042
Other
Alcohol, ethyl
g
0
Caffeine
mg
0
Theobromine
mg
0
Anthocyanidins
Cyanidin
mg
0
Petunidin
mg
0
Delphinidin
mg
0
Malvidin
mg
0
Pelargonidin
mg
0
Peonidin
mg
0
Flavan-3-ols
(+)-Catechin
mg
0
(-)-Epigallocatechin
mg
0
(-)-Epicatechin
mg
0
(-)-Epicatechin 3-gallate
mg
0
(-)-Epigallocatechin 3-gallate
mg
0
(+)-Gallocatechin
mg
0
Flavanones
Hesperetin
mg
0
Naringenin
mg
0
Flavones
Apigenin
mg
0
Luteolin
mg
0.6
Flavonols
Kaempferol
mg
0.1
Myricetin
mg
0
Quercetin
mg
0
Isoflavones
Daidzein
mg
0
Genistein
mg
0
Glycitein
mg
0
Total isoflavones
mg
0
Formononetin
mg
0
Coumestrol
mg
0
Proanthocyanidin
Proanthocyanidin dimers
mg
0
Proanthocyanidin trimers
mg
0
Proanthocyanidin 4-6mers
mg
0
Proanthocyanidin 7-10mers
mg
0
Proanthocyanidin polymers (>10mers)
mg
0
[Source
4)
]