What is gingivitis
Gingivitis is an inflammation of the gums (gingiva) caused by plaque and bacteria accumulation. Bacteria in plaque around your teeth release enzymes (collagenases) that can damage and erode the gum tissues. The infected gums swell, bleed easily, recede, and loosen from the teeth. Tooth loss is caused more frequently by gum disease than tooth decay. Red, swollen and bleeding gums on brushing is an indication that you may have gingivitis (inflamed gums). Bad breath is another sign of gum disease.
Gingivitis is caused by plaque, which is a sticky layer of germs that builds up on teeth. Plaque irritates the gums, causing them to bleed easily. If the plaque is not brushed off, it can become hard and further irritate the gums. Hardened plaque is called calculus or tartar. Plaque can only be removed by a dental health professional.
If you do not remove plaque, it turns into a hard deposit called tartar (or calculus) that becomes trapped at the base of the tooth. Plaque and tartar irritate and inflame the gums. Bacteria and the toxins they produce cause the gums to become infected, swollen, and tender.
These things raise your risk for gingivitis:
Certain infections and body-wide (systemic) diseases
Poor dental hygiene
Pregnancy (hormonal changes increase the sensitivity of the gums)
Uncontrolled diabetes
Misaligned teeth, rough edges of fillings, and ill-fitting or unclean mouth appliances (such as braces, dentures, bridges, and crowns)
Use of certain medicines, including phenytoin, bismuth, and some birth control pills
The most common cause of gingivitis is poor oral hygiene. Good oral health habits, such as brushing at least twice a day, flossing daily and getting regular dental checkups, can help prevent and reverse gingivitis. If you have an existing health condition, such as diabetes, you may be more likely to have oral hygiene problems such as gingivitis.
Gingivitis is reversible if treated. If left untreated, gingivitis will progress to an irreversible condition called periodontitis where the inflammation spreads to the bone supporting the teeth. Periodontitis may cause the area of the gum closest to the tooth to become weak. Spaces may form between the tooth and the gum, and these may trap germs, leading to even more swelling. Over time, the bone supporting the teeth can be lost, causing the teeth to become loose and possibly fall out.
Four different types of chronic gingivitis are described, depending on the predisposing factors:
Plaque-induced gingivitis. This gingivitis occurs as a result of infection caused by the presence of dental plaque.
Gingivitis modified by systemic factors. These would include puberty-associated gingivitis, menstrual cycle-associated gingivitis, pregnancy-associated gingivitis, diabetes mellitus-associated gingivitis and gingivitis associated with leukaemia.
Gingivitis modified by medications. These include drug-influenced gingival enlargement and drug-induced gingivitis, like oral contraceptive-associated gingivitis and drug-induced gingival overgrowth due to phenytoin or cyclosporin.
Gingivitis modified by malnutrition. These include gingivitis due to vitamin C deficiency (scurvy) or protein deficiency. Acute necrotizinig ulcerative gingivitis (ANUG). Acute necrotisinig ulcerative gingivitis is also known as, Vincent's gingivitis, Vincent's gingivostomatitis, ulceromembraneous gingivitis, or trench mouth.
Gingivitis complications
If you develop gingivitis and don't have the plaque or tartar (hardened plaque) removed from your teeth, the condition may get worse and lead to periodontitis.
You may develop further complications if you don't treat periodontitis (where the tissue that supports teeth is affected), including:
recurrent gum abscesses (painful collections of pus)
increasing damage to the periodontal ligament (the tissue that connects the tooth to the socket)
increasing damage to and loss of the alveolar bone (the bone in the jaw that contains the sockets of the teeth)
receding gums
loose teeth
loss of teeth
Acute necrotizing ulcerative gingivitis
If you have acute necrotizing ulcerative gingivitis (trench mouth) and it's not treated, it can cause more severe complications.
The infection can spread to all areas of your gums and the alveolar bone surrounding your teeth. This can lead to:
the gums between your teeth being completely destroyed
large ulcers (open sores) leaving permanent holes in your gums
loose and unstable teeth
If acute necrotizing ulcerative gingivitis (ANUG) isn't properly treated the first time you have it, you're more likely to have recurring cases in the future. This can cause persistent bad breath (halitosis) and bleeding gums, as well as gradually receding gums.
In rare cases, acute necrotizing ulcerative gingivitis (ANUG) can lead to gangrene affecting the lips and cheeks. This occurs when tissue starts to die and waste away. If you develop gangrene, you may need to have the dead tissue removed.
Other complications
Gum disease has also been associated with an increased risk for a number of other health conditions, including:
cardiovascular disease
lung infections
if affected during pregnancy, premature labor and having a baby with a low birth weight
Chronic gingiva inflammation has been thought to be associated with some systemic diseases such as respiratory disease, diabetes, coronary artery disease, stroke and rheumatoid arthritis. Some research suggests that the bacteria responsible for periodontitis can enter your bloodstream through gum tissue, possibly affecting your heart, lungs and other parts of your body. But more studies are needed to confirm a link because there isn't currently any clear evidence that gingivitis directly causes these problems.
Gingivitis causes
The most common cause of gingivitis is poor oral hygiene that encourages plaque to form on teeth, causing inflammation of the surrounding gum tissues. Here's how plaque can lead to gingivitis:
Plaque forms on your teeth. Plaque is an invisible, sticky film composed mainly of bacteria that forms on your teeth when starches and sugars in food interact with bacteria normally found in your mouth. Plaque requires daily removal because it re-forms quickly.
Plaque turns into tartar. Plaque that stays on your teeth can harden under your gumline into tartar (calculus), which collects bacteria. Tartar makes plaque more difficult to remove, creates a protective shield for bacteria and causes irritation along the gumline. You need professional dental cleaning to remove tartar.
Gingiva become inflamed (gingivitis). The longer that plaque and tartar remain on your teeth, the more they irritate the gingiva, the part of your gum around the base of your teeth, causing inflammation. In time, your gums become swollen and bleed easily. Tooth decay (dental caries) also may result. If not treated, gingivitis can advance to periodontitis and eventual tooth loss.
Risk factors for gingivitis
Gingivitis is common, and anyone can develop it. Factors that can increase your risk of gingivitis include:
Poor oral care habits
Smoking or chewing tobacco
Older age
Dry mouth
Poor nutrition, including vitamin C deficiency
Dental restorations that don't fit properly or crooked teeth that are difficult to clean
Conditions that decrease immunity such as leukemia, HIV/AIDS or cancer treatment
Certain drugs, such as phenytoin (Dilantin, Phenytek) for epileptic seizures, and some calcium channel blockers, used for angina, high blood pressure and other conditions
Hormonal changes, such as those related to pregnancy, menstrual cycle or use of birth control pills
Genetics
Medical conditions such as certain viral and fungal infections
Gingivitis prevention
To prevent gingivitis, gently brush your teeth and gums twice a day with a fluoridated toothpaste. You should also visit your dentist regularly for a check-up and cleaning.
Good oral hygiene. That means brushing your teeth for two minutes at least twice daily — in the morning and before going to bed — and flossing at least once a day. Better yet, brush after every meal or snack or as your dentist recommends. Flossing before you brush allows you to clean away the loosened food particles and bacteria.
Regular dental visits. See your dentist or dental hygienist regularly for cleanings, usually every six to 12 months. If you have risk factors that increase your chance of developing periodontitis — such as having dry mouth, taking certain medications or smoking — you may need professional cleaning more often.
Annual dental X-rays can help identify diseases that are not seen by a visual dental examination and monitor for changes in your dental health.
Good health practices. Practices such as healthy eating and managing blood sugar if you have diabetes also are important to maintain gum health.
Never use toothpicks to remove trapped food from between your teeth, as you may damage your gums, which could lead to an infection.
How to maintain good dental hygiene
Good dental hygiene means getting into the routine of thoroughly cleaning the mouth at least once or twice a day, though preferably after every meal. The following discussion considers some important aspects of keeping teeth clean such as brushing, flossing, mouthwashes, and other adjuncts to maintaining good dental health.
Flossing
Floss before every brushing. Remember that using just a small bit of dental floss to gently slide debris from between the teeth goes a long way towards eradicating plaque and keeping the mouth free from bacteria.
Floss should be wrapped around the fingers then stretched tightly between the thumbs, or thumb and first finger, of each hand so that it can be eased carefully between teeth. The floss should be moved carefully up and down the side of each tooth, pushing the floss down just under the gum line.
Other interdental cleaning devices (those devices that clean in between teeth) such as interproximal brushes or wooden or rubber tips are also valuable for certain people including those with missing teeth, large gaps, areas where the gum line has dropped, crowded teeth etc. A dentist is trained to determine the individual needs of a patient, and determine which tool will be the most effective.
Figure 1. Dental floss wrapped around both middle fingers with a gap of 5-10 cm.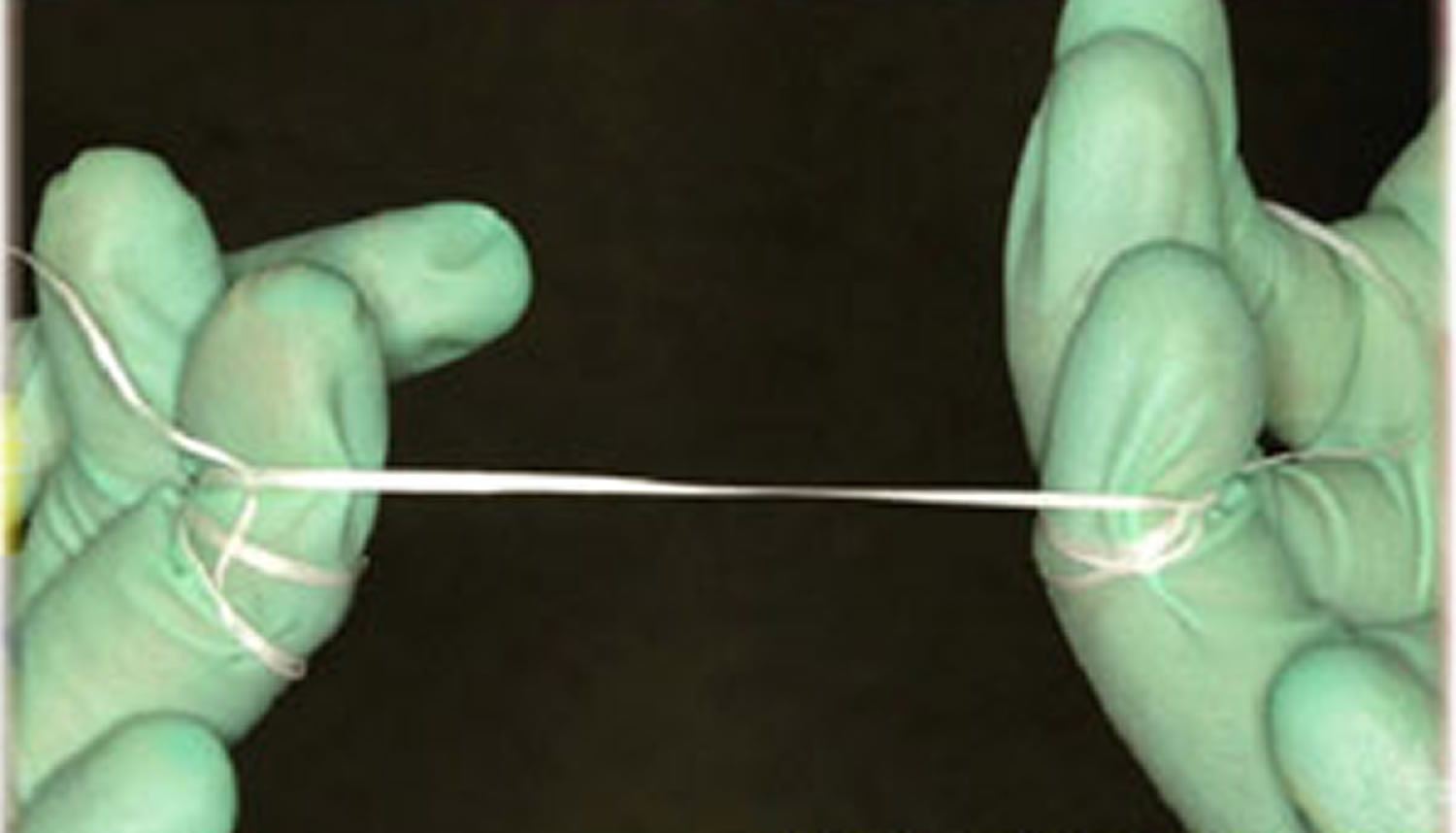 Figure 2. Flossing upper teeth. Note thumb and index finger used to floss through contact and then move up and down.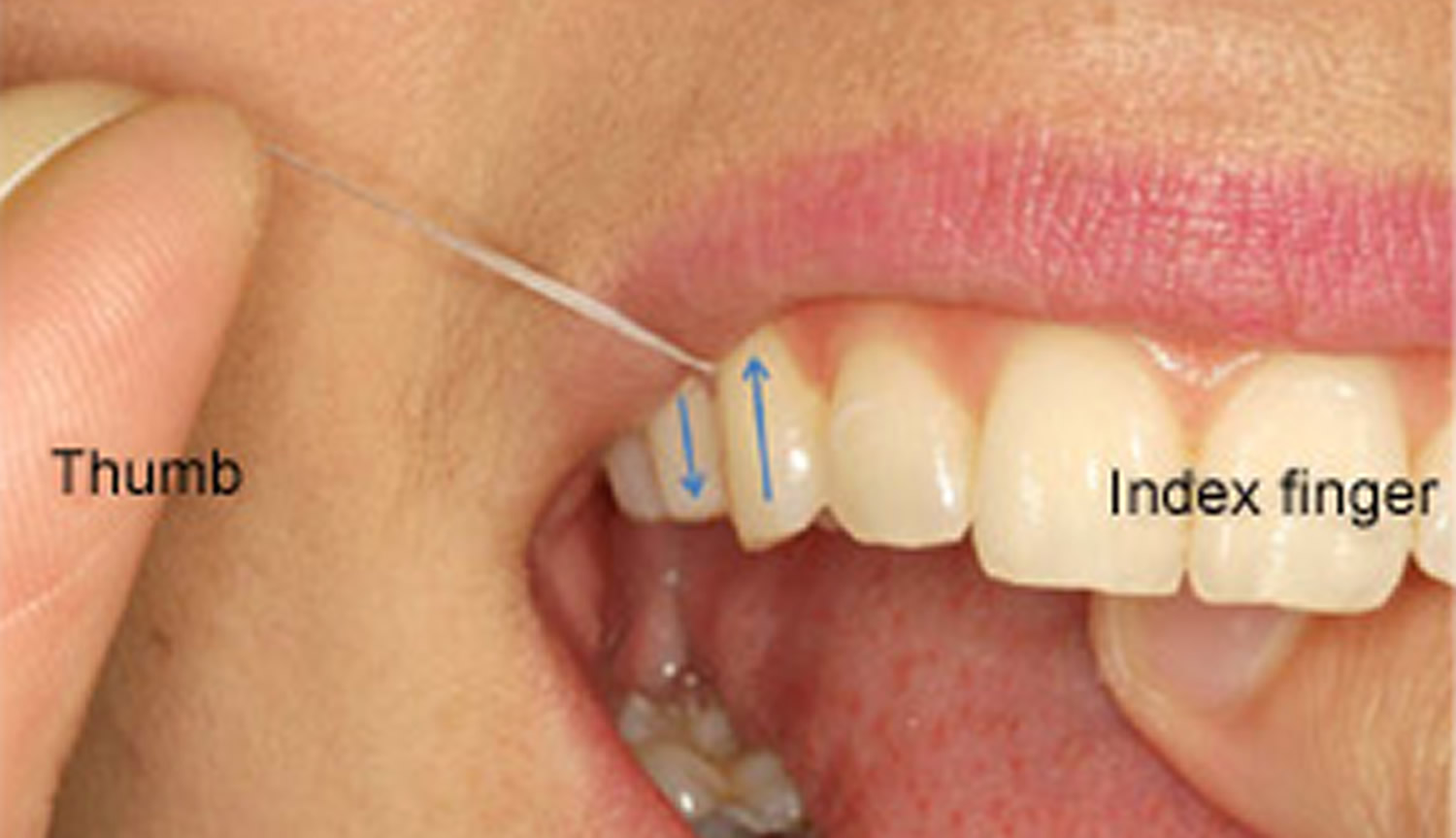 Figure 3. Flossing lower teeth. Note both index fingers used to floss through contact and then move up and down.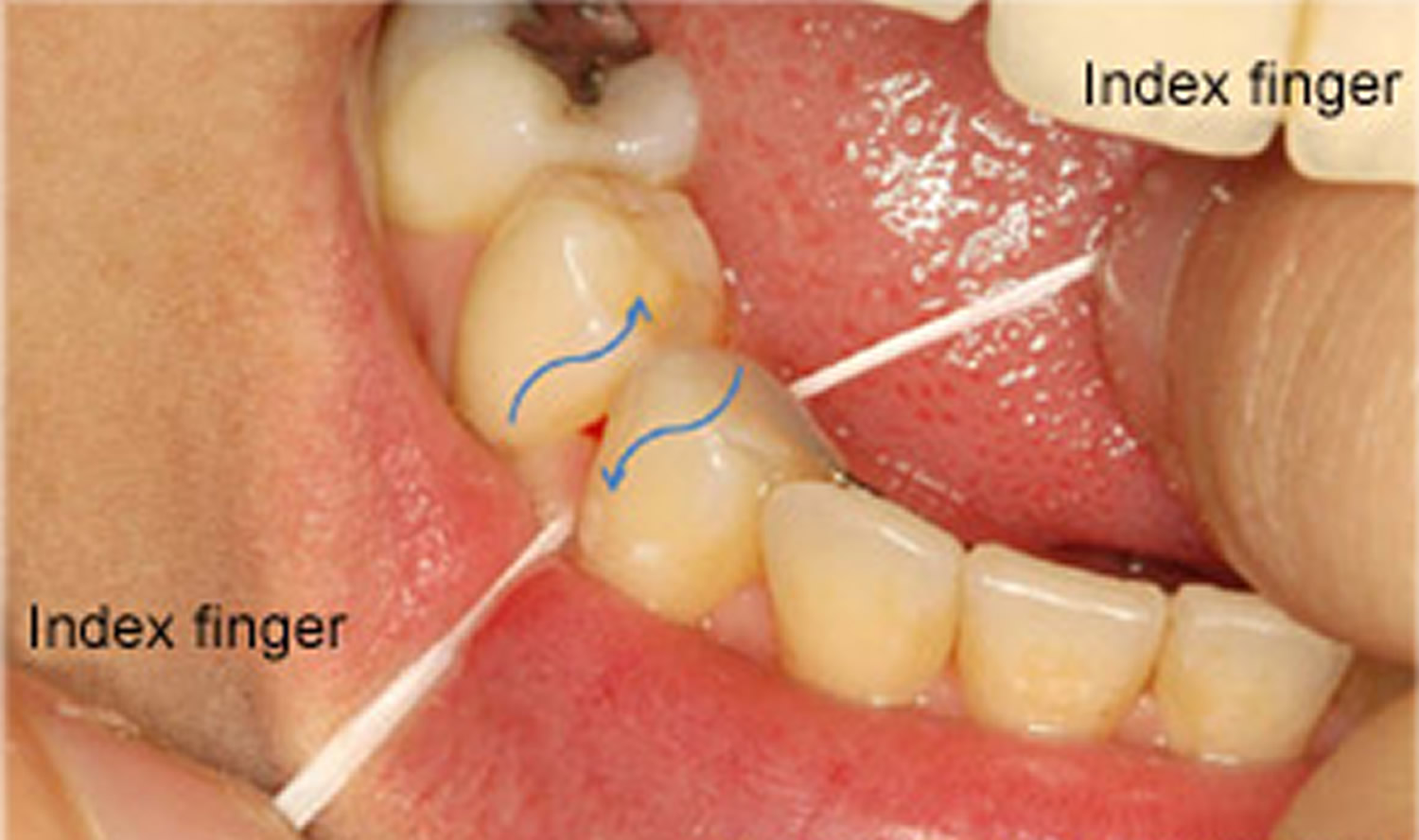 Figure 4. Floss continues to just below gum line.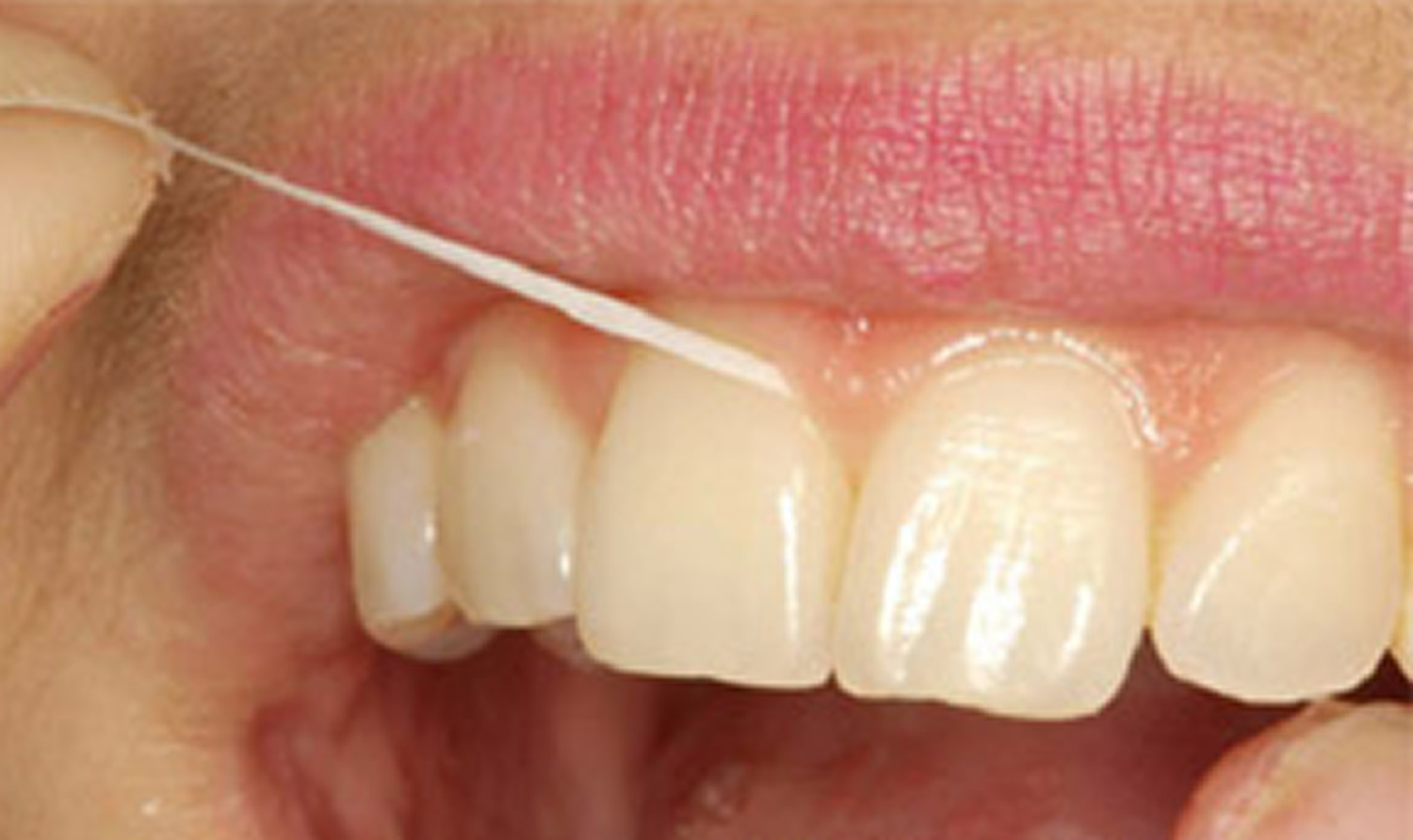 Figure 5. Interdental pikster or interproximal brush used to clean in between teeth. This is especially useful for people who cannot use conventional dental floss, such as those who have bridges that join teeth together, and/or orthodontic treatment (this person has a metal retainer behind the lower front teeth).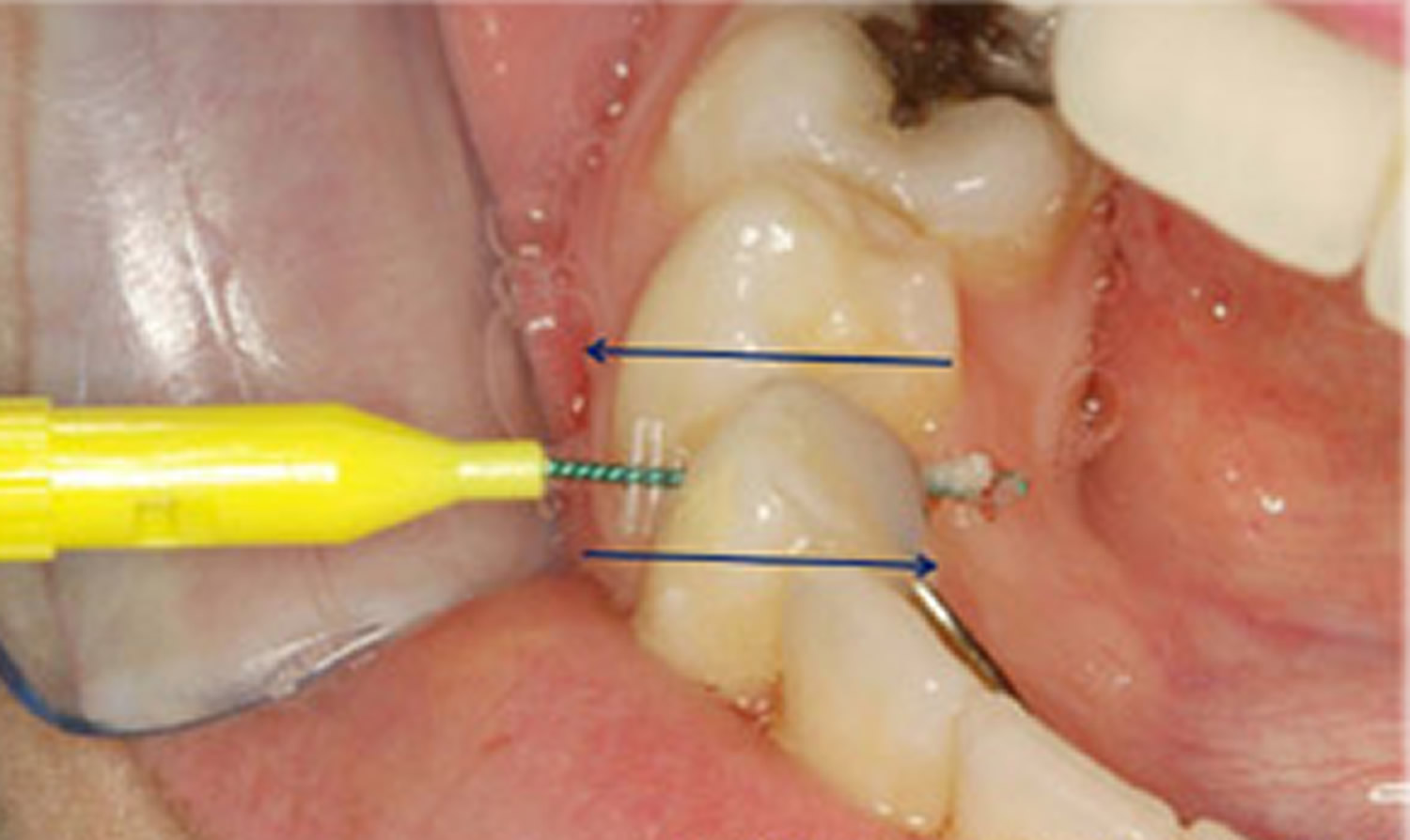 Brushing
Brushing teeth for two full minutes with fluoride toothpaste and a brush that is small enough to manoeuvre around the inside, outside and top of every tooth in the mouth is considered necessary. Consider listening to an entire song whilst brushing teeth – this will be the appropriate time needed to clean teeth. Replacing a brush every three months has also been shown to be more effective in maintaining good dental health.
When buying a manual toothbrush, use one with soft bristles as this will protect gums from damage to a greater extent. Studies have shown that brushing harder will not remove more dental plaque. Consider investing in an electric toothbrush if more help is needed and it is difficult to use a manual toothbrush. The novelty of a fancy new toothbrush is motivation alone to brush more.
How to brush
Press gently at a 45-degree angle. Scrub the side closest to the cheek (of the tooth and gum) for a few seconds using a small circular/vibratory motion. In the same manner, move slowly around your mouth until you get to the other side. Pay particular attention to the gum line.
Once on the other side of the mouth, rotate the brush so that it rests against the tooth and gum (on the side closest to your tongue), and use the same angle and same circular scrubbing motion to return to the first tooth.
Next, briskly brush along the top surface of the teeth.
Then repeat the entire process on the upper or lower set of teeth (depending on start position).
Do not neglect the roof of the mouth and tongue, as these places also harbor bacteria.
Try to only spit out the toothpaste, rather than rinsing it all out after brushing, as this will reduce the effect of the fluoride in toothpaste.
Figure 6. Brushing teeth – the toothbrush is angled at 45-degrees to the gum and teeth. The brush points upwards when brushing the top teeth and points towards the floor when brushing the lower teeth. Note the bristles of the brush cover the gums and the tooth at the same time when brushing.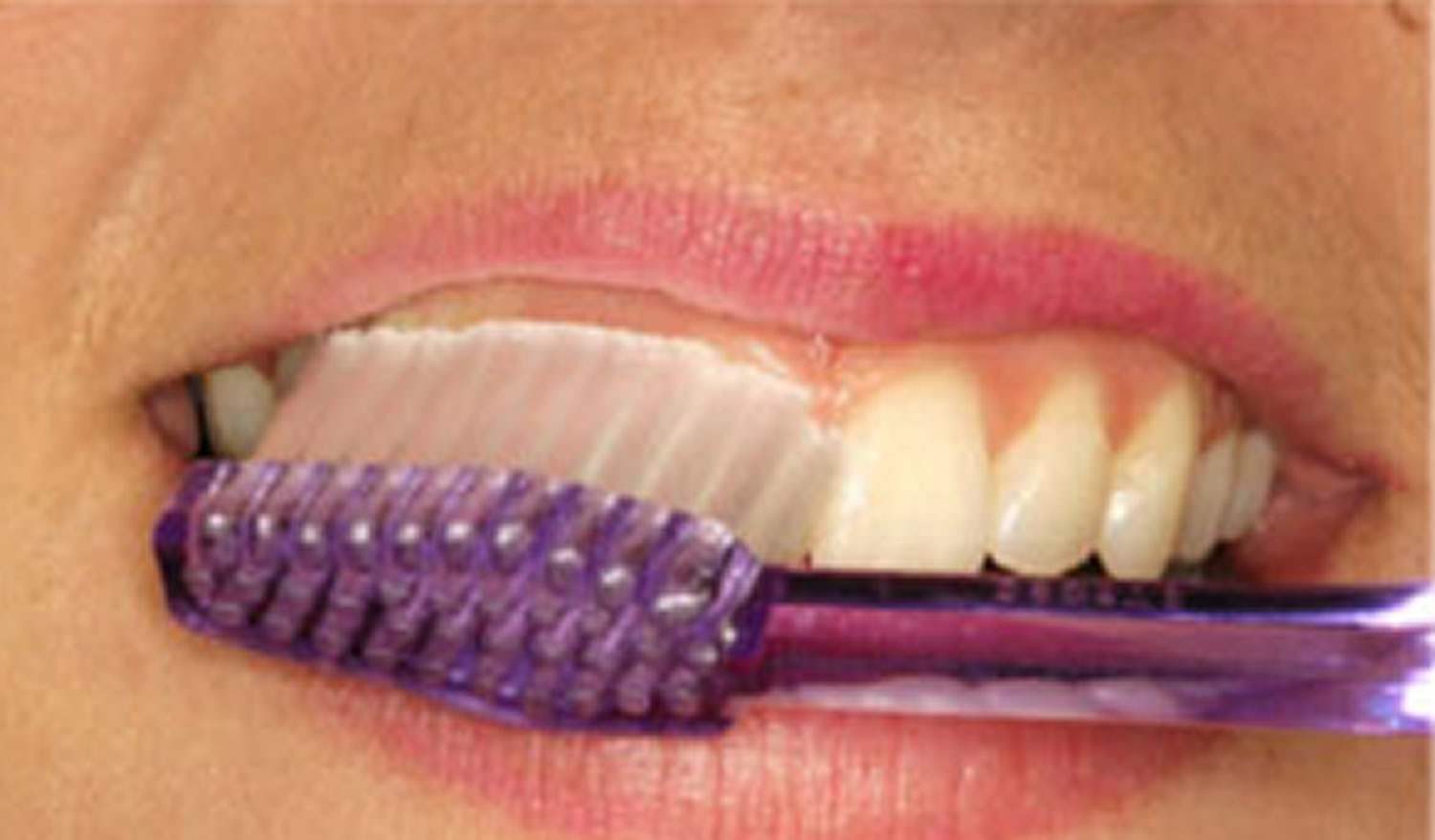 Figure 7. Brushing teeth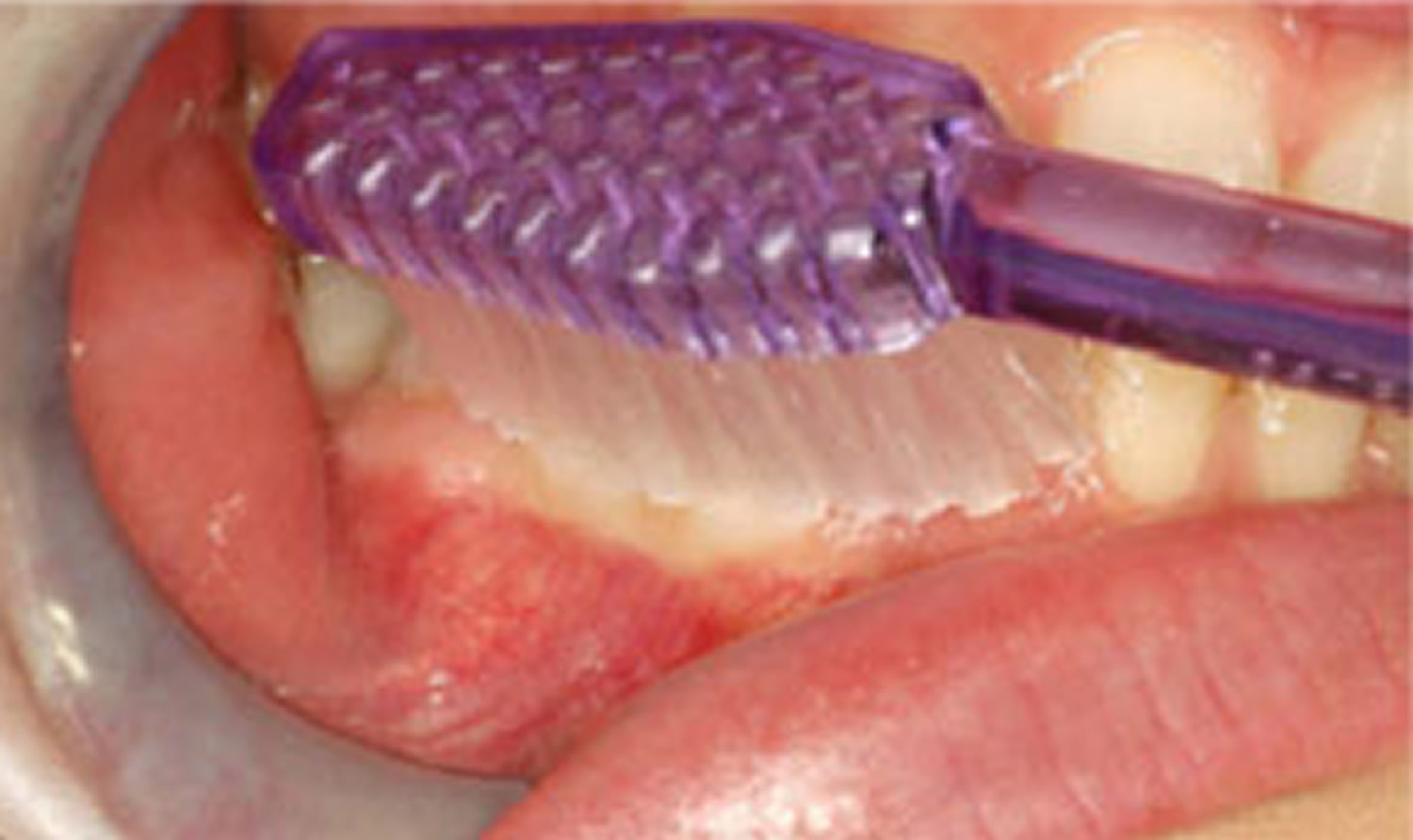 Important considerations when brushing
Keep a routine and do not rush! It is important to keep routines with oral hygiene; otherwise it is easy to miss areas of the mouth. Unfortunately, the same areas are missed EVERY time and these areas get gum disease. If you start on the top, don't rush the bottom teeth as these will tend to be worse than the top if this is the case.
Make sure every tooth surface is cleaned! With the brush, it is possible to clean the top of your teeth, and the sides that are closest to your cheek and tongue! Make sure for every tooth, these surfaces are cleaned.
Mouthwashes
It is important to remember that if one cleans the teeth properly with brushing and flossing, there is no need for a mouthwash. To date, the best mouthwashes include an ingredient known as chlorhexidine gluconate. Any mouthwash with this ingredient should ONLY be used for short periods of time as it has problems such as altering taste, staining teeth and margins of fillings etc. Those mouthwashes containing thymol and cetylpyridinium chloride are effective, but to a lesser degree than chlorhexidine gluconate.
Recently, there has been the heated debate over alcohol containing mouthwash related to oral cancer. Some people have dismissed the link, however, one study in 2008 from an Australian journal proposed a link between oral cancer and mouthwash in non-smokers and non-drinkers, and fueled the debate over whether dentists should be recommending alcohol containing mouthwashes. More and more companies are releasing alcohol free mouthwashes in light of recent evidence. At the moment, alcohol containing mouthwash does not cause oral cancer; it simply has been linked with a higher incidence in some research.
What type of toothpaste should I use?
It's important to use a toothpaste with the right concentration of fluoride. Check the packaging to find out how much fluoride each brand contains.
Adults should use a toothpaste that contains at least 1,350 parts per million (ppm) fluoride.
Children don't need to use special "children's toothpaste". Children of all ages can use family toothpaste, as long as it contains 1,350-1,500ppm fluoride.
Children aged six and under who don't have tooth decay can use a lower-strength children's toothpaste, but make sure it contains at least 1,000ppm fluoride.
Below the age of three, children should use just a smear of toothpaste. Children aged three to six years should use a pea-sized blob of toothpaste. Make sure children don't lick or eat toothpaste from the tube.
Your dentist may advise you or your child to use a toothpaste with a higher concentration of fluoride, if you need it.
High fluoride toothpaste, and CPP-ACP
High fluoride toothpastes should be used only in consultation with dental advice. They usually have five times the fluoride content of normal toothpaste and are advised in patients who are high-risk to dental decay. Other agents such as CPP-ACP (casein phosphopeptide – amorphous calcium phosphate), which are effective in helping remineralise the tooth, are being promoted in patients prone to erosion, dental decay, and dry mouth.
Dentist visit
Maintaining good oral hygiene involves going to the dentist every 6-12 months. The dentist is able to:
Recommend cleaning techniques and products;
Clean plaque and calculus from the teeth;
Fill cavities that could lead to further tooth decay;
Administer fluoride treatments;
Treat mild gingivitis before it turns into periodontitis;
Take radiographs; and
Reinforce oral hygiene instruction over long term.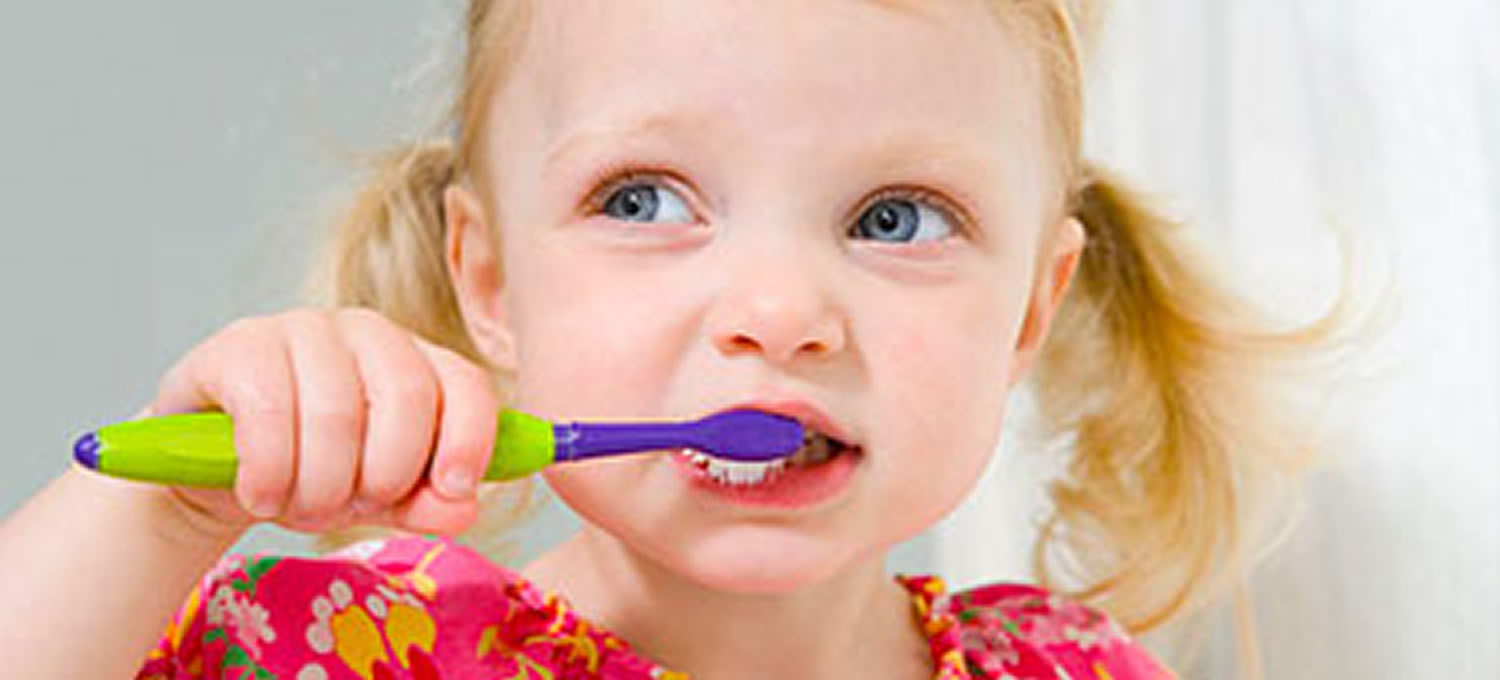 Children's gingivitis and tooth decay prevention
Most children want sweets, but you can help to prevent problems by making sure they don't have a large amount or very often, and particularly not before bed, when saliva flow lessens. Try not to give sweets or sweet drinks as rewards.
The best snacks for your child are fruit and raw vegetables. Try tangerines, bananas, pieces of cucumber or carrot sticks. Other good snacks include toast, rice cakes and plain popcorn.
Dried fruit is high in sugar and can be bad for teeth, so only ever give it to children with meals – for instance, as a dessert – and never as a snack between meals.
Fizzy drinks can contain large amounts of sugar, which will increase the risk of tooth decay. Fizzy drinks (both those containing sugar and sugar-free or "diet" versions) also contain acids that can erode the outer surface of the tooth. The best drinks for children over one year old are plain still water or plain milk.
Even unsweetened juices and smoothies contain sugars and acids. Restrict your child to no more than one small glass (about 150ml) of fruit juice or smoothie each day and only at mealtimes.
Teeth are at most risk at night because there is less saliva in the mouth to protect them. Water is the best drink to give at bedtime, but if you do give milk, don't add anything to it. Chocolate-flavored drinks and milkshake powder usually contain sugars, which will increase the risk of decay.
A regular teeth-cleaning routine is essential for good dental health. Follow these tips and you can help keep your kids' teeth decay-free.
From brushing their first tooth to their first trip to the dentist, here's how to take care of your children's teeth.
Toothpaste tips
Start brushing your baby's teeth with fluoride toothpaste as soon as the first milk tooth breaks through (usually at around six months, but it can be earlier or later). It's important to use a fluoride paste, as this helps to prevent and control tooth decay.
There's no need to buy special "children's toothpaste" brands. In fact, some of them don't have enough fluoride in them to help prevent tooth decay.
Children from the age of seven can use family toothpaste, as long as it contains 1,350-1,500 parts per million (ppm) fluoride. Check the toothpaste packet if you're not sure, or ask your dentist.
Children up to the age of six who don't have tooth decay can use a lower-strength toothpaste, but make sure it contains at least 1,000ppm fluoride.
Make sure children don't eat or lick toothpaste from the tube.
Below the age of three years, children should use just a smear of toothpaste.
Children aged three to six should use a pea-sized blob of toothpaste.
Toothbrushing tips
Brush your child's teeth for about two minutes twice a day: once just before bedtime and at least one other time during the day.
Encourage them to spit out excess toothpaste, but not to rinse with lots of water. Rinsing with water after tooth brushing will wash away the fluoride and make it less effective.
Supervise tooth brushing until your child is seven or eight years old, either by brushing their teeth yourself or, if they brush their own teeth, by watching how they do it. From the age of seven or eight, they should be able to brush their own teeth, but it's still a good idea to watch them now and again to make sure they brush properly and for about two minutes.
How to help children brush their teeth properly
Guide your child's hand so they can feel the correct movement.
Use a mirror to help your child see exactly where the brush is cleaning their teeth.
Make tooth brushing as fun as possible by using an egg timer to time it for about two minutes.
Don't let children run around with a toothbrush in their mouth, as they may have an accident and hurt themselves.
Fluoride varnish and fissure sealants
Fissure sealants can be done once your child's permanent back teeth have started to come through (usually at the age of about six or seven) to protect them from decay. This is where the chewing surfaces of the back teeth are covered with a special thin plastic coating to keep germs and food particles out of the grooves. The sealant can last for as long as 5 to 10 years.
Fluoride varnish can be applied to both baby teeth and adult teeth. It involves painting a varnish that contains high levels of fluoride on to the surface of the tooth every six months to prevent decay. It works by strengthening tooth enamel, making it more resistant to decay.
From the age of three, children should be offered fluoride varnish application at least twice a year. Younger children may also be offered this treatment if your dentist thinks they need it.
Ask your dentist about fluoride varnish or fissure sealing.
Will a dummy or thumb sucking harm my child's teeth?
No, but they will encourage an open bite, which is when teeth move to make space for the dummy or thumb. They may also affect speech development. That's why you should avoid using dummies after 12 months of age.
Thumb sucking won't cause permanent problems, as long as the habit stops by the time your child gets their second teeth, but it can be a hard habit to break.
Discourage your children from talking or making sounds with their thumb or a dummy in their mouth, and don't dip dummies in anything sweet, such as sugar or jam.
Gingivitis signs and symptoms
Healthy gums are firm and pale pink and fitted tightly around the teeth. Signs and symptoms of gingivitis include:
Swollen or puffy gums
Dusky red or dark red gums
Gums that bleed easily when you brush or floss
Bad breath
Receding gums
Tender gums
Gingivitis diagnosis
Dentists usually diagnose gingivitis based on:
Review of your dental and medical history and conditions that may contribute to your symptoms.
Examination of your teeth, gums, mouth and tongue for signs of plaque and inflammation.
Measuring the pocket depth of the groove between your gums and your teeth by inserting a dental probe beside your tooth beneath your gum line, usually at several sites throughout your mouth. In a healthy mouth, the pocket depth is usually between 1 and 3 millimeters (mm). Pockets deeper than 4 mm may indicate gum disease.
Dental X-rays to check for bone loss in areas where your dentist sees deeper pockets.
Other tests as needed. If it's not clear what has caused your gingivitis, your dentist may recommend that you get a medical evaluation to check for underlying health conditions. If your gum disease is advanced, your dentist may refer you to a specialist in gum diseases (periodontist).
Gingivitis treatment
Prompt treatment usually reverses symptoms of gingivitis and prevents its progression to more serious gum disease and tooth loss. You have the best chance for successful treatment when you also adopt a daily routine of good oral care and stop tobacco use.
Gingivitis cure
Professional dental cleaning. Your initial professional cleaning will include removing all traces of plaque, tartar and bacterial products — a procedure known as scaling and root planing. Scaling removes tartar and bacteria from your tooth surfaces and beneath your gums. Root planning removes the bacterial products produced by inflammation, smooths the root surfaces, discouraging further buildup of tartar and bacteria, and allows proper healing. The procedure may be performed using instruments, a laser or an ultrasonic device.
Dental restoration, if needed. Misaligned teeth or poorly fitting crowns, bridges or other dental restorations may irritate your gums and make it harder to remove plaque during daily oral care. If problems with your teeth or dental restorations contribute to your gingivitis, your dentist may recommend fixing these problems.
Ongoing care. Gingivitis usually clears up after a thorough professional cleaning — as long as you continue good oral hygiene at home. Your dentist will help you plan an effective at-home program and a schedule of regular professional checkups and cleaning.
If you're consistent with your home oral hygiene, you should see the return of pink, healthy gum tissue within days or weeks.
Gingivitis can be cured without permanent damage. Periodontitis can't be cured, but it can be controlled. The bone loss may be very slow or stopped.
Gingivitis treatment at home
Home remedies for gingivitis
Steps you can take at home to prevent and reverse gingivitis include:
Brush your teeth twice a day or, better yet, after every meal or snack.
Use a soft toothbrush and replace it at least every three to four months.
Consider using an electric toothbrush, which may be more effective at removing plaque and tartar.
Floss daily.
Use a mouth rinse to help reduce plaque between your teeth.
Supplement brushing and flossing with an interdental cleaner, such as a dental pick, interdental brush or dental stick specially designed to clean between your teeth.
Get regular professional dental cleanings on a schedule recommended by your dentist.
Don't smoke or chew tobacco.